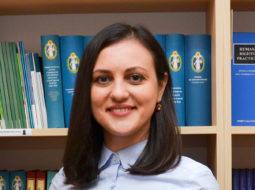 Victoria VIRSCHI
Legal Officer
+373 22 843 601 (ext. 106)

victoria.virschi@crjm.org
Victoria VIRSCHI holds the position of a Legal Officer at the Legal Resources Centre from Moldova since December 2018.
For four years, Victoria worked at the National Legal Aid Council (NLAC), contributing to administration and reform of the legal aid system. Victoria was involved in activities aimed at developing the field of qualified legal aid and piloting new methods of primary legal aid. Victoria was the secretary of the NLAC and the member of the justice sector reform working group.
Since 2016, she has been coordinating and implementing projects in the field of children's rights in non-criminal cases and the rights of people with intellectual and psychosocial disabilities. Victoria has experience in preventing and combating violence against women and girls, working as a project coordinator within HelpAge International.
Victoria did her bachelor and masters studies in civil law and civil proceedings at the Law Faculty of the State University of Moldova. Victoria is fluent in Romanian (native) and Russian and has good knowledge of English and French.