Main achievements of the LRCM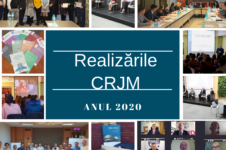 We invite you to discover the summary of the activities carried out by the LRCM team in 2020!
Rule of law
We analysed the perception of the main actors in the judiciary on justice reform and combatting corruption; the efficiency of the mechanism for compensation by the state of the damage caused by breach of the reasonable time; the efficiency of the disciplinary liability and selection and promotion of judges; the practice of anonymization of court decisions and with regards to expropriation from good-faith purchasers.
We organized the "Justice and Anticorruption Reforms" Forum, the main platform of inclusive discussions on justice reform and combatting corruption.
We developed informative materials on confidence in the judiciary; anonymization of court decisions; the activity of the National Integrity Authority; efficiency and quality of justice; justice sector personnel; salaries of judges and prosecutors; resources allocated to justice.
Together with other civil society organizations (CSOs), we expressed our deep concern regarding the attacks launched by politicians against the Constitutional Court and the judiciary and urged to end them immediately.
We organized public lectures on integrity, fight with corruption and justice for circs 150 students.
———————————————————————————————————————————————————————————————-
Human Rights
We summarized the violations found by the European Court of Human Rights (ECtHR) regarding the Republic of Moldova for 23 years; analysed the ECtHR's activity in 2019 and the jurisprudence of the Equality Council regarding equality and non-discrimination.
———————————————————————————————————————————————————————————————-
Democracy and civil society
We successfully advocated for the adoption of a new NGO law in Moldova, that enshrines the best European standards on freedom of association; we developed informative materials that guide representatives of noncommercial organizations on how to harness the provisions of this law.
We organized the National Conference for CSOs where circa 100 CSO representatives participated. They engaged in discussions and shared their experience in order to help each other to be resilient during crisis times, including the COVID-19 pandemic.
In November 2020, LRCM celebrated its 10th Year anniversary. On this occasion, LRCM offered an annual scholarship for a student, by this offering its support in development of professional skills and civic engagement.