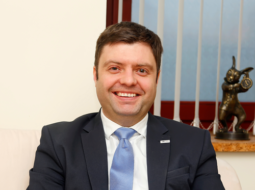 Ion GUZUN is co-founder of The Legal Resources Centre from Moldova and since January 2011 he is Legal Officer within the organization.
Between 2005 and 2009 he worked within UNDP Moldova. Between 2009 and 2010 he worked as projects coordinator at the NGO "Moldovan Institute for Human Rights". Since 2009 his professional activity was focused on combating ill-treatment in Moldova. He has contributed to various reports on human rights issues in Moldova and submissions to UN and EU related to human rights observance in Moldova. Starting with 2009 he is involved as expert for several organizations such as Council of Europe, UNDP Moldova, UNICEF Moldova, Soros Foundation-Moldova, OSCE Mission to Moldova, etc. Between July 2011 and June 2013 he was member of the National Preventive Mechanism on Torture and from November 2011 he was apprentice at the Public Defender Office. From June 2013 he is attorney at law.
He graduated from the State University of Moldova, Law Faculty, in 2005. He received his LLM in private law at the same university in 2006.
Ion is fluent in Romanian (native), English and Russian.