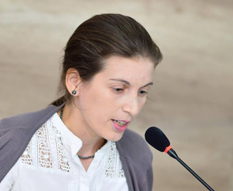 Elena PROHNIȚCHI
Deputy Director, Association for Participatory Democracy ADEPT
Elena Prohniţchi received a Bachelor's degree in International Relations at Moldova State University and a Master's degree in Political Science at the Central European University, Budapest, Hungary.
Since 2007 Elena is working as a Program Coordinator for ADEPT Association, where she coordinates and participates in implementation of several projects on monitoring, fact-checking, good governance, information and civic education of voters.
During 2010-2013 she was part of the resource group on human rights, which documented, monitored and reported cases of human rights violations to national and international institutions and took advocacy demarches for their remediation as well.
Since 2011 Elena participates as a national expert on electoral matters in the elaboration of the European Integration Index for Eastern Partnership Countries.