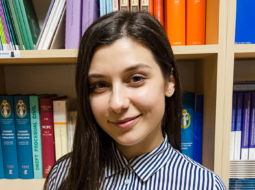 Ecaterina POPȘOI
Legal Officer
Ecaterina.Popsoi@crjm.org
Ecaterina POPȘOI works as a Legal Officer at the Legal Resources Centre from Moldova since November 2019.
Previously, she worked as gender focal point responsible for gender mainstreaming at the NGO "EcoContact" and as project assistant and trainer within "EduJust" and small "Girl Big Boss" projects.
In 2019, Ecaterina completed her bachelor degree at the General Economics and Law Faculty of the Academy of Economic Studies of Moldova, where during her studies she participated in numerous conferences, round tables, debates, etc.
From September 2017  to August 2019, she was holder of two scholarships: one from Konrad Adenauer Stiftung (KAS) and other from the Republic of Moldova. Ecaterina is alumni at the European Institute of Political Studies of Moldova and  KAS School of Excellence in Politics.
Ecaterina speaks fluently Romanian (mother tongue), Russian and English. She speaks Ukrainian at intermediate level.