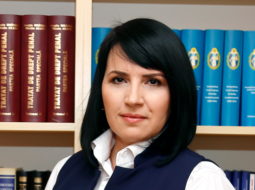 Olga BURUCENCO
Director of Administrative Service
+373 22 843 601 ext.110

olga.burucenco@crjm.org
Olga holds the position of the Director of Administrative Service within LRCM since September 2015, where she is responsible for coordinating Association's projects and proper organization of its activities.
She started her professional activity as a lecturer of English at the Faculty of International Relations, Political and Administrative Sciences, Moldova State University, subsequently being engaged in the private sector. Five years' experience in translation and secretarial work, as well as four years' experience in management of small teams, gained as the Head of Secretariat within a private company, shall allow her to contribute and bring value in the management of the Association.
Olga holds BA in Political Science from Moldova State University since 2001 and MA in American Studies from Moldova State University since 2002.
Olga is fluent in Romanian (mother tongue), English and Russian.