The results of the first year of implementation of the mechanism 2%
18.07.2018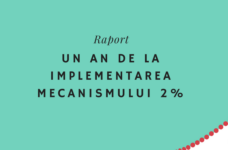 The 2017 was the first year in Moldova when individual taxpayers had the right to designate 2% of their income tax to a noncommercial organization. Legal Resources Centre from Moldova made an analysis on the results of the first year of implementation of the 2% mechanism.
In the first year of implementation, 484 noncommercial organizations (413 associations, foundations and private institutions and 71 religious cults and component parts) have registered in the List of 2% Beneficiaries. Only 302 of them (about 62%), received percentage designations, 86% (260) of which are NGOs, and about 14% (42) – religious entities. The total number of organizations registered in the first year represents about 5% of the total number of non-commercial organizations registered in the Republic of Moldova.
In 2017, 21.204 taxpayers designated MDL 4,140,868.43 (circa USD 244,588/EUR 210,090) to the beneficiary organizations. They represent about 10% of the total number of taxpayers who filed their income declarations in due time (1 January – 2 May 2017). On the average, in 2017, each taxpayer designated MDL 195 (USD 11.51 / EUR 9.89).
Only 68% of the amount designated by the taxpayers were transferred to the beneficiary organizations (MDL 2,821,243.60 (approximately USD 166,642 / EUR 143,138).) About 24% of the number of designations and 32% of the designated amount (MDL 1,319,624) were invalidated because of the debts on income tax, not paid by taxpayers for the current or previous years.
After the validation of the designations, 90% of the amounts went to the NGOs (MDL 2,543,114.45), and 10% to the religious entities (MDL 278,129.15). The largest amount received by an organization in 2017 was MDL 1,374,555.89 (USD 81,190 / EUR 69,739), which represents 49% of the total amount validated. The beneficiary of this amount is the Public Association of Veterans and Pensioners of the Ministry of Internal Affairs of the Republic of Moldova.
The complete information on the first years of the implementation of the 2% mechanism is available here.
The report was drafted within the project "Promotion of the 2% designation mechanism in the Republic of Moldova" implemented with the support of the European Center for Not-for-Profit Law (ECNL) and FHI360 Moldova and was possible by the generous support of the American people through the United States Agency for International Development (USAID).
The report in Romanian is available here
The report in Russian is available here
Note: According to the official exchange rates as of June 25, 2018: USD 1 = MDL 16.93; EUR 1 = MDL 19.71, http://bnm.md/en/content/ratele-de-schimb.