LRCM was awarded at the European Union Awards Gala for Civil Society
13.07.2018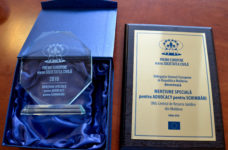 On 12 July 2018, the European Union (EU) awarded the tangible achievements and initiatives of civil society organizations at national, regional and local level that had a lasting and positive impact on democracy, economic development and social cohesion in the Republic of Moldova and have promoted European values. Project competition was organized on the basis of a nomination or self-nomination process, aiming at identifying the best actions undertaken with EU support.
The Legal Resources Centre from Moldova (CRJM) was one of the evening's award winners. The project "Promoting equality – Strengthening the agents of change", implemented between 1 February 2014 and 31 January 2016, in partnership with the Euroregional Center for Public Initiatives (ECPI), was awarded the special mention "ADVOCACY FOR CHANGE".
The project aimed at raising the awareness of the population on the equality and non-discrimination in the Republic of Moldova as well as to empower teachers, social workers and the legal community so that they subsequently act as agents or factors of change in society, because they are able to prevent discriminatory actions and attitudes and to multiply the correct message in their communities.
More information on the results achieved within the project can be found here.